LSA has launched A New Info Card:
On December 1, 2018, LSA launched a new INFORMATION CARD (Business card). The card will serve as a mean of providing immediate information to Liberians and others on how to contact and/or learn more about LSA.
LSA leadership intend to distribute the new card through its four main branches: LSA Stockholm, Mälmö, Goteborg and LSA Sweden Norrland branch, especially to newcomers Liberians to Sweden.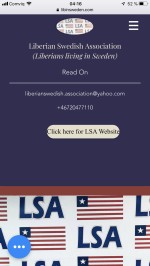 LSA Launched A New Blog
On December 4, 2018, LSA new leadership for the time in the history of LSA launched a new blog platform for Liberians living in Sweden. This blog will serve as a means of getting information regarding the Liberian community in Sweden to Liberians, supporters, and well-wishers of LSA in Sweden and abroad. Since its launched, the blog has been up and running, and coming forth with relevant information for the community. LSA encourage Liberians living in Sweden to sign-up to the blog in order to keep up-to-date on happenings in the Liberians community.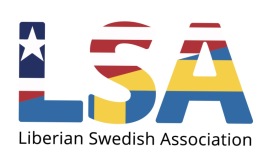 LSA launched it's Logo
The Liberian Swedish Association (LSA) has a logo! LSA officials and the board has deemed it necessary to create a logo to represent the organisation. This will be the mark or identity of the Liberian Swedish Association. The logo as depicted in the picture has upper and lower sections. The upper section represents the Liberian national flag and the lower section represents the Swedish national flag which symbolises both nations that LSA represents. Moreover, the design is closer to the minimalistic Scandinavians design, which entails that "the less design the better it is to get the point through".